Second Street Grill - 28 N 2nd St, Yakima, WA 98901
Provisions Restaurant - 2710 Terrace Heights Dr, Yakima, WA 98901
Wandering Hop - 508 N 20th Ave, Yakima, WA 98902
Redifer Brewing Company - 123 E Yakima Ave, Yakima, WA 98901
Single Hill Brewing - 102 N Naches Ave, Yakima, WA 98901
Apple Tree Resort - 8804 Occidental Rd, Yakima, WA 98903
Kameo Flower Shop - 111 S 2nd St, Yakima, WA 98901
Bale Breaker - 1801 Birchfield Rd, Yakima, WA 98901
5 W Yakima Ave, Yakima, WA 98902
Second Street Grill - 28 N 2nd St, Yakima, WA 98901
Provisions Restaurant - 2710 Terrace Heights Dr, Yakima, WA 98901
Wandering Hop - 508 N 20th Ave, Yakima, WA 98902
Redifer Brewing Company - 123 E Yakima Ave, Yakima, WA 98901
Single Hill Brewing - 102 N Naches Ave, Yakima, WA 98901
Apple Tree Resort - 8804 Occidental Rd, Yakima, WA 98903
Kameo Flower Shop - 111 S 2nd St, Yakima, WA 98901
Bale Breaker - 1801 Birchfield Rd, Yakima, WA 98901
5 W Yakima Ave, Yakima, WA 98902

Need tickets to this year's festival on Saturday, October 5th? Great news! We will be on the patio at Second Street Grill selling GA tickets and a few of this year's new merch items! You can also enter to win 2 sets of (2) VIP tickets by participating in our mini corn hole contest! Grab some drinks or apps and hang with us!
*You must be present to win the VIP tickets. Drawing will be held @ 6:45 p.m. Cash and Credit will be accepted.

Kickoff for Fresh Hop Beer Week!
Happy Fresh Hop Week! We are kicking off the week with truly original specials to celebrate #freshhopweek. We have four rotating fresh hop handles, along with other food and drink specials!

Fresh Hop Beer Week will be moving full steam ahead and we are going ALL out for Wandering Wednesday. We will have 6 Fresh Hop Beers on tap, a Fresh new Sandwich and prize giveaways! We are also going to be doing a drawing for a Wandering Hop Swag Bag (Hat, Shirt, Glassware) just in time for the Fresh Hop Ale Festival. Win or purchase your favorite Wandering Hop Hat, Shirt, Crowler, Glass, Sticker, Coaster or Temporary Tattoo.. anything with our logo on it and take it out to the festival on Saturday! Snap a picture at the festival with our logo using the hashtag #WanderingHop on Facebook/Instagram for a chance to win extra goodies!


Join us for a day of Fundraising, Fresh Hop Beer Tasting and Golf! What better way to start the weekend of celebration with a 2 man best ball tournament?! The Fresh Hop Ale Festival will also be onsite selling festival tickets, merch and raffle tickets for awesome prizes provided by FMC and Hometown Ace Hardware! Your fee includes lunch, scrip, a commemorative cup, 9 holes of golf and cart. Registration begins at 11 a.m.

80's Party featuring Seance Crasher & Night Heron
Let's get day-glo Yakima! Bust out your bodacious 80's threads and feel free to wear your sun glasses at night. We are throwing a Super Fresh Hop Pre-Funk 80's Party featuring Portland's own Seance Crasher and Night Heron. There will be prizes for the best 80's dressed. Come flaunt your stuff!!!
Seance Crasher is the recording alias of Portland artist Kevin Rafn, joined by Lia Gist, Scott Harlan and James Taylor. Through high lyricism, drum machine savvy and anachronistic synth strokes, the band creates a sonic milieu of Blue-eyed Soul and midnight pop. Unique narratives are at the heart of each tune.
In August of 2018, Seance Crasher began collaborating with producer Cam Spies (Radiation City, Reptaliens, Blackwater Holylight, Aan). The new collection of songs, crafted largely in the studio, take the band on a natural journey through bi-coastal 1980's moods, reminiscent of steam-issuing urban storm drains, Minneapolis Sound and T.V. true crime soundtracks.
Not skipping a beat since the Winter release of Gentle Cycle, 2019 finds Seance Crasher poised to drop a series of new singles throughout the Summer and Fall.
https://soundcloud.com/seancecrasher/charlie
Night Heron is the new project from Portland music scene stalwart Cameron Spies. You can hear the same style song craft he used in his former band Radiation City but, with Night Heron Cam brings out the funk.

Fresh Hop Festival Weekend
It doesn't get any fresher than Fresh Hop weekend here in Yakima valley, the Heart of Hop Country! Whether you're just getting into town or need a little hair of the dog before the festival starts, come grab a fresh pint, play some lawn games, get a tour, and kill time with us in the taproom. We've planned a full weekend of activities just for you!
Friday, 10/4, 12-9PM
•From 3-3:30pm, Quality & Sensory Manager Jackie Beard will lead you in a hop field tour & sensory experience, giving you a chance to sniff whatever hop is freshly kilned, and receive a quick lesson what what we're working with.
•From 4-8pm, join us and Flatstick Pub for the ultimate Fresh Hop Mini Golf Putt-Putt Contest. Three targets. Three putts. Three awesome prizes to win. Dust off that old putter and bring your A game for a chance to win one of the following prizes: 1st place: $100 Flatstick Pub Gift Card + $100 BBBC Gift Card; 2nd place: $50 Flatstick Pub Gift Card + $50 BBBC Gift Card; 3rd place: $25 Flatstick Pub Gift Card + $25 BBBC Gift Card
Saturday, 10/5, 12-5PM
•From 12:30-3pm, we'll be hosting two behind-the-scenes tours of Bale Breaker Brewing Company. Come take a look and enjoy a nice cold Piled High Fresh Hop Imperial Ale or two straight from the source in Hop Field 41. Check the schedule below for tour times.
•From 3-5pm, we'll be continuing the festivities with the hoppiest of hours: $4/pints with all the fixings to make your very own Fresh Hop Crown to wear to the festival!
•We'll be closing early at 5pm to join in on the action downtown at Fresh Hop Ale Festival! See you there! Don't have tickets? You can get 'em here: https://freshhopalefestival.com/tickets/
Sunday, 10/6, 12-6PM
•From 12-3pm, Guerra's will be serving up a hangover brunch. Nurse that post-festival hangover with Guerra's Gourmet breakfast tortas + Fresh Hop beer. Trust us when we say this combo is the ultimate hangover cure.
•From 1-4pm, we'll be hosting another round of brewery tours from 1-4pm on Sunday. Just enough time to get some food + beer in your tummy and back on the horse. 😉 Check the schedule below for tour times.
•6pm: AND THAT'S A WRAP! Safe + sober travels home. See y'all next year!

Join us on October 4th at Kameo Flowers & Events in downtown Yakima to make your own one-of-a-kind hop crown with hops provided by Roy Farms.
Participants will craft their own unique crowns with a selection of beautiful flowers and decorative elements including feathers, lights, grapes, mini red solo cups, glitter, butterflies, and more!
We'll have a taco bar with delicious "Build Your Own Taco" selections from Toni's Catering, and beer, wine, and cider will be available for purchase featuring: NHV, Tieton Cider Works, Treveri Cellars, Varietal Beer Co, and Wantering Hop.
Doors open at 5:30pm. The first class begins at 6pm followed by a second class at 7pm.
Tickets are $60 and available online at kameoflowershop.com.
Follow the link to purchase https://www.kameoflowershop.com/custom-product/hop-crown-party-event-ticket/prod6950510 or give us a call at 509-453-7166.
Event is 21+.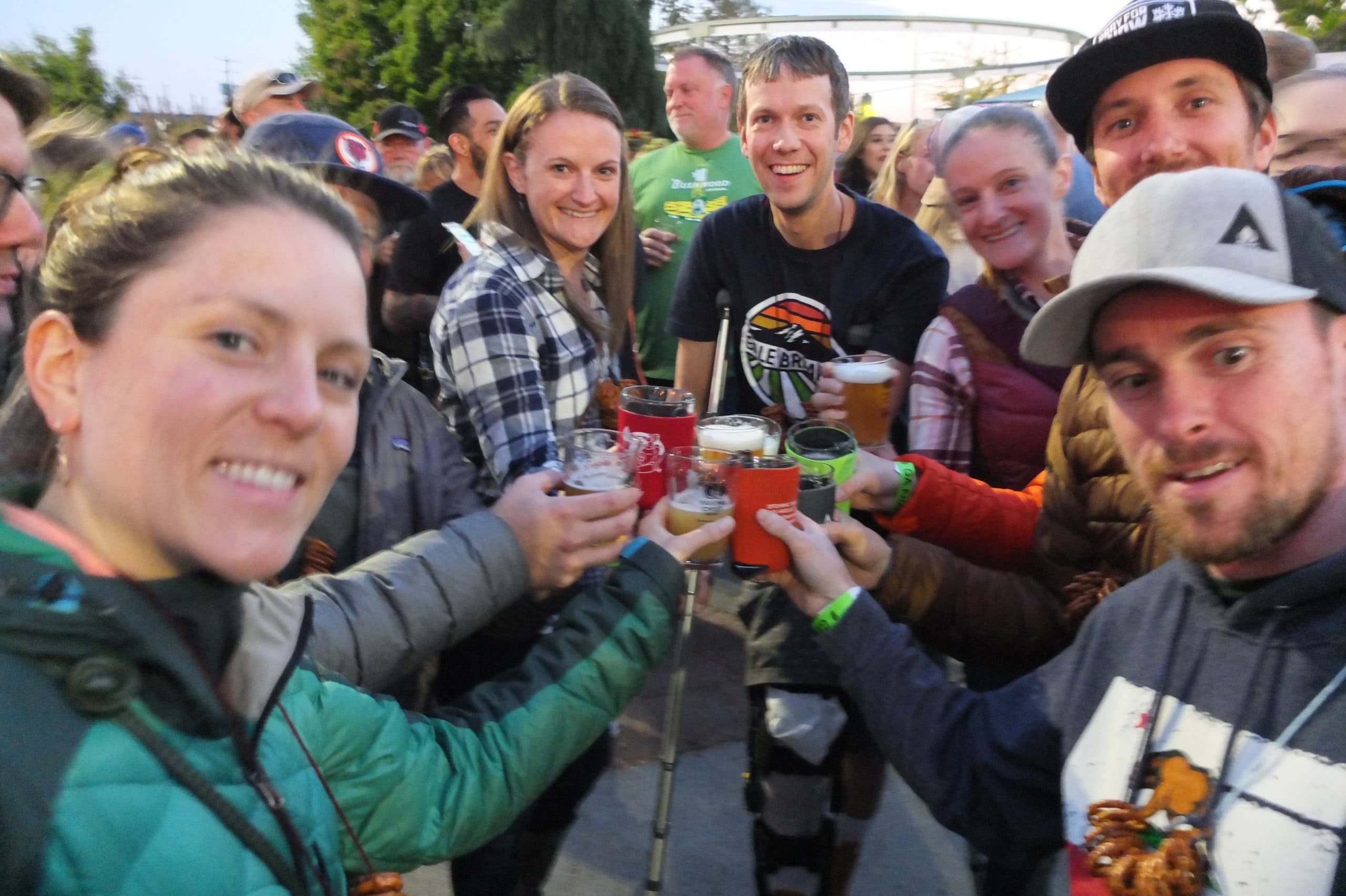 17th Annual Fresh Hop Ale Festival
The 17th Annual Fresh Hop Festival is back and better than ever! With a new, larger downtown location, we are ready to raise money for local arts and science organizations and celebrate Yakima's hop harvest. With over 70 beer, wine and cider vendors there is something for everyone to enjoy. Live music and awesome food round out the experience. Don't miss out. Cheers!
Select date to see events.